Calico Cat Mystery Series
---
Olivia Goes Wild, A Calico Cat Mystery, Book 5
By Patricia Fry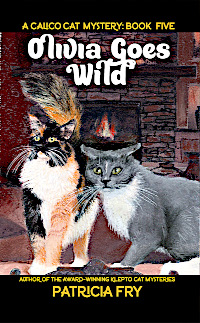 Olivia Tames the Wild-Wild West.

In this story, Olivia and her friend, Rags, the klepto cat, vacation at a ranch in Colorado with their families. Together, they dig up important clues to a tragic mystery, and they unearth something that will change a life forever. While Olivia finds a friend for a lonely aging horse and leads a brood of helpless ducklings to safety, Rags puts himself in danger to save a cougarís life. This is a fun read with interesting human and animal characters, a baffling mystery, and a lot of unexpected surprises.


This book is available now at Amazon in Kindle or Paperback format.

This book is available as a paperback in the Matilija Press store.
+++++
Patricia Fry has been writing for publication since 1973, having contributed articles to numerous magazines. She published her first book in 1983 and now has many self-published and traditionally published books to her credit. See her most recent books in the left column of this page.