Calico Cat Mystery Series
---
Then Came Olivia, A Calico Cat Mystery, Book 3
By Patricia Fry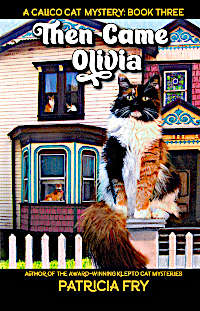 Olivia helps untangle another CATastrophic mystery.

Parker and Olivia team up with cat activist, Jaguar Katz, and his cat, Archie, in a most unusual and alarming cat-disappearance case. Who's taking beloved cats from their homes in the sleepy mountain village and for what purpose? Some of the possibilities are terrifying. Olivia and Archie find clues that make no sense at all until a risky plot flushes out the surprising culprit in the most entertaining manner. Along the way, Olivia interacts with an array of cats, dogs, and their humans; she miraculously saves an injured cat; she escapes a near tragedy herself; she charms almost everyone she meets; and she leads the charge toward resolving the case.

Warning: This is a cozy mystery and it may contain heartwarming moments, a measure of suspense, a lot of cat activity, and at least a little frivolity and fun along the way.


This book is available now at Amazon in Kindle or Paperback format.

This book is available as a paperback in the Matilija Press store.
+++++
Patricia Fry has been writing for publication since 1973, having contributed articles to numerous magazines. She published her first book in 1983 and now has many self-published and traditionally published books to her credit. See her most recent books in the left column of this page.