Calico Cat Mystery Series
---
Where's Olivia?, A Calico Cat Mystery, Book 2
By Patricia Fry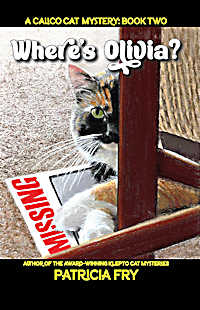 Olivia claws and charms her way out of some sticky situations. The search is on for Detective Judís missing daughter, and Olivia doesnít miss a beat as she scratches up important clues. She even does a little undercover work, but not because she wants to. When Parker and the detective meet up with a sister and brother in search of their missing mother, they join forces in a daring rescue attempt. And the spunky calico does her part to end the charade and free those who were under a wicked spell.


This book is available now at Amazon in Kindle or Paperback format.

This book is available as a paperback in the Matilija Press store.
+++++
Patricia Fry has been writing for publication since 1973, having contributed articles to numerous magazines. She published her first book in 1983 and now has many self-published and traditionally published books to her credit. See her most recent books in the left column of this page.