Klepto Cat Mystery Series
---
The Amazing Catventure: A Klepto Cat Mystery, Book 19
By Patricia Fry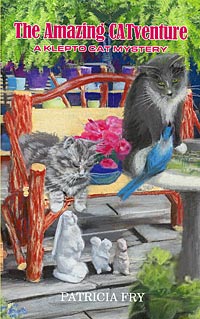 Savannah and Michael Ivey happily agree that they'll enjoy a rare quiet and relaxing summer. Little did they know, however, that their pact would soon be broken, as another mystery was unfolding at that very moment—one that would shock the entire community, cause a major disturbance in their quiet neighborhood, and, of course, involve their venturesome cat. Ever wonder what it would be like to put a GoPro on your cat? Follow along as Rags and Dolly launch out on the cat-venture of their lives with some startling consequences and amazing discoveries. And most of the action is caught on camera.





The Amazing Catventure is available now at Amazon in Kindle or Paperback format.

The Amazing Catventure is available as a paperback in the Matilija Press store.
+++++
Patricia Fry has been writing for publication since 1973, having contributed articles to numerous magazines. She published her first book in 1983 and now has many self-published and traditionally published books to her credit. See her most recent books in the left column of this page.