Klepto Cat Mystery Series
---
Cabin FURvor: A Klepto Cat Mystery, Book 16
By Patricia Fry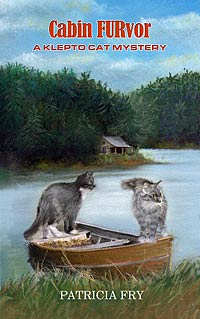 A girls' fun getaway weekend quickly becomes something that would rival any Fright Night flick. The women run into the infamous mountain monster, they're visited by an escaped kidnap victim, and they're privy to rumors of a deranged serial killer who may live secretly in their cabin. Just when Savannah, Aunt Margaret, and their two best friends think the worst is over, they make a grisly discovery that shakes up the mountain community. This thriller is also rich in hilarity and features plenty of cat action, as Rags and his tabby friend Dolly tag along on this fur-raising adventure.





Cabin Furvor is available now at Amazon in Kindle format for only $2.99.

Cabin FURvor paperback is available in the Matilija Press store.
+++++
Patricia Fry has been writing for publication since 1973, having contributed articles to numerous magazines. She published her first book in 1983 and now has many self-published and traditionally published books to her credit. See her most recent books in the left column of this page.