Klepto Cat Mystery Series
---
Calico Calamities, A Klepto Cat Mystery, Book 51
By Patricia Fry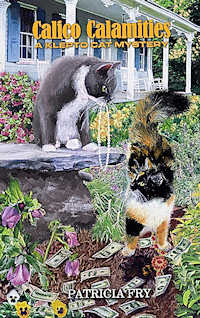 Rags meets his match in a pert and sassy calico.The stunning, savvy, and colorful Olivia visits the Iveys and quickly teams up with Rags in some fascinating and gripping catscapades. Together the feline duo paw the unlikely culprit in a troubling theft. They save an injured cat at a rescue shelter, and they expose a well-kept personal family secret. Ultimately, sparks fly and minds are changed when Rags and Olivia show their tough stuff and enlighten a group of misinformed protesters about the reality of intuitive and discerning cats.


Calico Calamities is available now at Amazon in Kindle or Paperback format.

Calico Calamities is available as a paperback in the Matilija Press store.
+++++
Patricia Fry has been writing for publication since 1973, having contributed articles to numerous magazines. She published her first book in 1983 and now has many self-published and traditionally published books to her credit. See her most recent books in the left column of this page.