Klepto Cat Mystery Series
---
Catch Meow If You Can, A Klepto Cat Mystery, Book 62
By Patricia Fry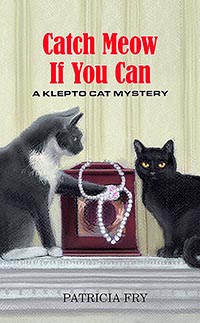 Rags confronts a serial killer.

Savannah and Rags go on the road to promote her books. Little does Savannah know there's a murderer running rampant in the big city until Rags disappears. The cat returns with clues and evidence, but what do they mean? Answers come from the most unexpected sources and the hunt is on for the killer with Rags leading the charge. Will they find the latest victim in time? How will they stop the killer—someone who is known only to the cat? In this story, Rags also rescues an infant, saves some at-risk wild animals, and helps a friend re-discover himself.


This book is available now at Amazon in Kindle or Paperback format.

This book is available now as a paperback in the Matilija Press store.
+++++
Patricia Fry has been writing for publication since 1973, having contributed articles to numerous magazines. She published her first book in 1983 and now has many self-published and traditionally published books to her credit. See her most recent books in the left column of this page.