Klepto Cat Mystery Series
---
Cats and Caboodle: A Klepto Cat Mystery, Book 37
By Patricia Fry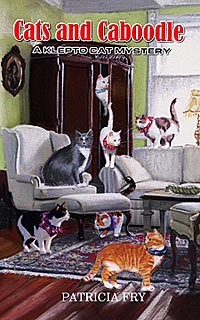 Rags wears many hats in this action-packed mystery.

While he bravely serves as a therapy cat for street pets and helps to heal a potentially dangerous family issue, Rags's most important role in this story is untangling a messy cat mystery. Cats seem to be coming out of the woodwork at the Kaiser Inn. No one knows where they're coming from or where they're going. Even Caroline, the cat psychic, is puzzled, until the circus comes to town. Follow along with this fascinating tale and thrill at all the CATfusion and kitty-cat fun.




Cats and Caboodle is available now at Amazon in Kindle or Paperback format.

Cats and Caboodle is available as a paperback in the Matilija Press store.
+++++
Patricia Fry has been writing for publication since 1973, having contributed articles to numerous magazines. She published her first book in 1983 and now has many self-published and traditionally published books to her credit. See her most recent books in the left column of this page.