Klepto Cat Mystery Series
---
Cats in Cahoots: A Klepto Cat Mystery, Book 18
By Patricia Fry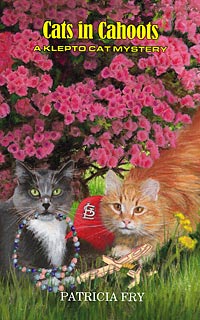 Strange things are happening in Savannah and Michael Iveys' neighborhood. Items are going missing; some of them mysteriously reappearing. Rags, the klepto cat, is caught pilfering some of the small stuff, but who or what is carrying off the larger objects and why? Is the horse involved or do the new kids on the block have sticky fingers? Perhaps Rags's new feline friend, the golden girl, is a mystical being.

In the meantime, when Michael volunteers in an out of state animal abuse case, Savannah invites her sister and mother to spend the week at the Ivey home and the women soon find themselves hostages of angry jewel thieves. A cousin Savannah hasn't seen since they were children arrives with her family and a pleasant outing becomes a close call for Savannah and her baby, Lily. A mysterious young man courageously thwarts tragedy that day, then runs off before he can be identified. It takes a child to solve the neighborhood thievery and to reveal the identity of the true hero in this story. You'll delight at the feel-good ending to this light mystery.


Cats in Cahoots is available now at Amazon in Kindle or paperback format.

Cats in Cahoots is available as a paperback in the Matilija Press store.
+++++
Patricia Fry has been writing for publication since 1973, having contributed articles to numerous magazines. She published her first book in 1983 and now has many self-published and traditionally published books to her credit. See her most recent books in the left column of this page.