Klepto Cat Mystery Series
---
Claw and Order, A Klepto Cat Mystery, Book 54
By Patricia Fry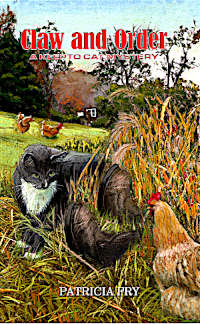 Rags claws his way into and out of trouble.

Five-year-old Lily starts school and Rags becomes obsessed with the classroom and the students—especially one little boy named Eli. Eli's existence seems to be enshrouded in a deep mystery, and Rags makes it his mission to expose the family's dark secret. Will this put the boy in danger?

Savannah does her best to keep Rags occupied and away from the school and the boy. She takes Rags on a trail ride and is aghast when he discovers a body. The authorities are stymied as to the cause of death. Leave it to Rags to uncover the shocking truth, which lets one prime suspect off the hook and possibly jeopardizes the freedom of another.

This is a fast-moving story with many surprises along the way and, a heart-warming ending for Eli.


This book is available now at Amazon in Kindle or Paperback format.

This book is available now as a paperback in the Matilija Press store.
+++++
Patricia Fry has been writing for publication since 1973, having contributed articles to numerous magazines. She published her first book in 1983 and now has many self-published and traditionally published books to her credit. See her most recent books in the left column of this page.