Klepto Cat Mystery Series
---
The Corral Cat Caper: A Klepto Cat Mystery, Book 7
By Patricia Fry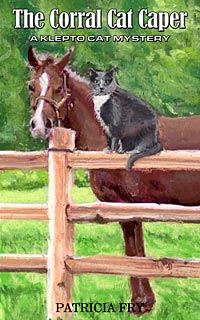 Savannah Ivey's horse goes missing and Rags, the klepto cat, goes into mourning. Savannah and her friends spend days on horseback searching for Peaches over miles of dense wilderness. Along with a few dead-end clues, they stumble upon Elsie, a most unusual elderly woman living under dangerously primitive conditions. Elsie harbors secrets-some of which may lead to the recovery of Savannah's horse, but only after Rags puts his claws into the matter and Detective Craig Sledge gets involved.

The Corral Cat Caper features a lot of horse energy. It's rich in adventure of the feline as well as equine sort. In one scene, Rags attempt to save their sweet kitty, Buffy, from a catnapper and Savannah helplessly watches this drama unfold via a surveillance camera app on her phone.

This story is full of sweet and evil surprises, unexpected twists and turns, and plenty of action and adventure.

Corral Cat Caper is available now for Kindle at only $2.99 at Amazon.

Corral Cat Caper paperback is available in the Matilija Press store.
+++++
Patricia Fry has been writing for publication since 1973, having contributed articles to numerous magazines. She published her first book in 1983 and now has many self-published and traditionally published books to her credit. See her most recent books in the left column of this page.