Klepto Cat Mystery Series
---
Meow Me A Riddle, A Klepto Cat Mystery, Book 57
By Patricia Fry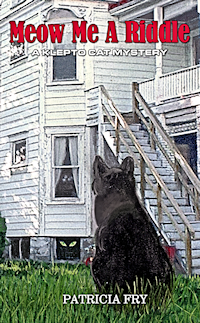 Rags reveals a ghastly decades-old secret.

This is a story of lost hope and recovery. Rags reveals more than skeletons in the closet of a century-old mansion. He saves human and feline lives that have been interrupted in the most horrifying way. He finds the key to healing a broken family, and he even rescues a nest of birds after a thoughtless act. This story will delight and excite you. You'll gasp, you'll laugh, and you'll marvel at the wonders of the cat.


This book is available now at Amazon in Kindle or Paperback format.

This book is available now as a paperback in the Matilija Press store.
+++++
Patricia Fry has been writing for publication since 1973, having contributed articles to numerous magazines. She published her first book in 1983 and now has many self-published and traditionally published books to her credit. See her most recent books in the left column of this page.