Klepto Cat Mystery Series
---
Meowmoirs of a Klepto Cat: A Klepto Cat Mystery, Book 29
By Patricia Fry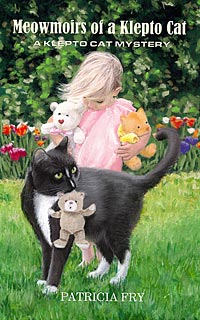 This is the life story of Rags, the amazing, precocious cat who stars in the Klepto Cat Mystery series. Read about his precarious kittenhood. Marvel at some of his intriguing and touching teenage escapades. And delight in revisiting many of his more recent adventures. Rags is a cat with a purpose. While some people believe itís to cause chaos, others see this feline as a knight in furry armor. If we could get into Ragsís head, however, weíd probably see that itís filled with butterflies and trinkets. Yes, he marches along in life to the beat of a different drummer and leaves behind an assortment of reactions. Is Rags clever or naÔve, intuitive or fluky, smart or lucky? And does it really matter? One thingís for sure, he makes an impression wherever he goes and thatís just the way his fans like it.




Meowmoirs of a Klepto Cat is available now at Amazon in Kindle or Paperback format.

Meowmoirs of a Klepto Cat is available as a paperback in the Matilija Press store.
+++++
Patricia Fry has been writing for publication since 1973, having contributed articles to numerous magazines. She published her first book in 1983 and now has many self-published and traditionally published books to her credit. See her most recent books in the left column of this page.