Klepto Cat Mystery Series
---
A PAWsome Encounter, A Klepto Cat Mystery, Book 50
By Patricia Fry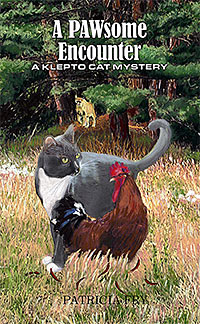 Rags joins some unusual friends for high adventure.What does a mountain lion, a cowboy, a lost cat, a therapy horse, and a chicken have in common with Rags? Enough to create one of the most exciting stories in the Klepto Cat Mystery series. The Ivey family has four more days at the dude ranch in Colorado.

While relaxing was their goal, circumstances tip the scales in a whole different direction. Rags's risks his life to save a chicken. He also helps to reunite a beloved cat with his family, thwarts an attempted kitten-napping, diagnoses a deadly condition threatening a treasured therapy horse, and connects in mysterious ways with a dangerous wild animal. This is edge-of-your-seat reading as Rags breaks all the rules in order to follow his instincts—or is he just being naughty?


A PAWsome Encounter is available now at Amazon in Kindle or Paperback format.

A PAWsome Encounter is available as a paperback in the Matilija Press store.
+++++
Patricia Fry has been writing for publication since 1973, having contributed articles to numerous magazines. She published her first book in 1983 and now has many self-published and traditionally published books to her credit. See her most recent books in the left column of this page.