Klepto Cat Mystery Series
---
PAWtners in Crime: A Klepto Cat Mystery, Book 10
By Patricia Fry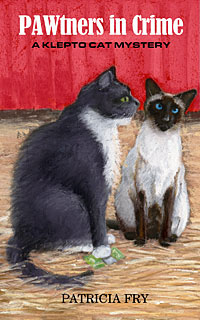 When Michael and Savannah invite young burn victim and heir Arthur Spence into their home, they don't expect danger to follow. The sensationalism around his family's dark secrets have the paparazzi in a photo-snapping frenzy and the young man isn't yet equipped to deal with their shenanigans. Are they issuing the unnerving threats to Arthur's life, or is it a beloved family member? Rags, the kleptomaniac cat, has a new PAWtner in fighting crime and what a team they make. They delight in sticking their noses and digging their claws into the facts of the frightening matter. Hold onto your seats—there are some harrowing moments in this story, and some startling surprises.

PAWtners in Crime is available now for Kindle at only $2.99 at Amazon.

Now available in paperback on this website.

+++++
Patricia Fry has been writing for publication since 1973, having contributed articles to numerous magazines. She published her first book in 1983 and now has many self-published and traditionally published books to her credit. See her most recent books in the left column of this page.