Klepto Cat Mystery Series
---
In Purrsuit of the Unknown: A Klepto Cat Mystery, Book 49
By Patricia Fry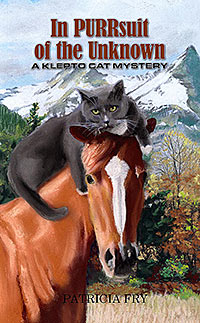 Rags is caught up in another vexing mystery.There's something unsettling about the ranch Iris's son Brett just bought, and he has summoned Rags and the Iveys to Colorado to help resolve the mystery. Detective Craig and Savannah's psychic friend, Rochelle also get involved. They're stumped as to whether the mystery is shrouded in Indian lore, the spirit world, or if they're dealing with a creature leftover from prehistoric times.

The core of the mystery begins to unravel when Rags catches wind of the possible source. Rags causes angst as he follows his nose and his senses in search of clues. Along the way he makes some stunning discoveries and a few unlikely friends. Ultimately, Rags stumbles upon a victim, paws the culprit, and leads the march toward the startling truth. Rags's signature side-stories include a rumble with a golf cart, a scheduled performance where Rags shows up wearing fur of a different color, and he teaches a mean-spirited woman and a doubting man lessons about cats that only Rags could convey.



In Purrsuit of the Unknown is available now at Amazon in Kindle or Paperback format. In Purrsuit of the Unknown is available as a paperback in the Matilija Press store.
+++++
Patricia Fry has been writing for publication since 1973, having contributed articles to numerous magazines. She published her first book in 1983 and now has many self-published and traditionally published books to her credit. See her most recent books in the left column of this page.