Klepto Cat Mystery Series
---
Rags's Bewitching Hour, A Klepto Cat Mystery, Book 64
By Patricia Fry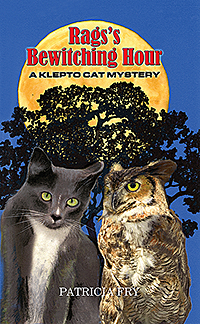 Rags steps up his game in this lively story.

A family vacation presents unexpected challenges for the Iveys, and Rags doesnít make things any easier. However, he does call attention to a disaster about to happen, then he fights off an assailant and ultimately brings him to justice. Among other things, Rags finds a missing boy where no one thought to look; he saves a comatose kitten; he frees two women being held prisoner in deplorable conditions; he helps take down a purveyor of dangerous products; and he leads the charge in the rescue of a most unlikely friend. You donít want to miss this dynamic episode in the world of Rags the klepto cat.


This book is available now at Amazon in Kindle or Paperback format.

This book is available now as a paperback in the Matilija Press store.
+++++
Patricia Fry has been writing for publication since 1973, having contributed articles to numerous magazines. She published her first book in 1983 and now has many self-published and traditionally published books to her credit. See her most recent books in the left column of this page.