Klepto Cat Mystery Series
---
Rags Lends a Helping Paw, A Klepto Cat Mystery, Book 55
By Patricia Fry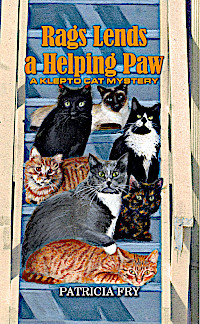 Rags leads the charge against mayhem and crime. In this story Rags helps locate and rehabilitate Detective Craig's troubled stepson, but not without some missteps and mishaps. The detective, Savannah, and her psychic friend, Rochelle travel to Arizona to find Chris and try to help him. Along the way Rags takes charge in an attempted assault, he saves Rochelle from a cruel magician's prank, and he rescues vulnerable cats under difficult circumstances. Expect the unexpected in this lively and touching tale.


This book is available now at Amazon in Kindle or Paperback format.

This book is available now as a paperback in the Matilija Press store.
+++++
Patricia Fry has been writing for publication since 1973, having contributed articles to numerous magazines. She published her first book in 1983 and now has many self-published and traditionally published books to her credit. See her most recent books in the left column of this page.