Klepto Cat Mystery Series
---
Secret Claws: A Klepto Cat Mystery, Book 33
By Patricia Fry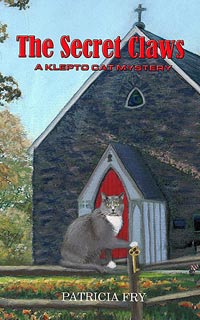 Rags knows no bounds.

The Ivey and Pettit families look forward to spending their last vacation days together relaxing at a mountain cabin, but Rags has other ideas. It doesn't take him long to change the flow of events and everyone's plans. Rags unveils a secret and immediately involves his humans in a whirlwind of intrigue. While everyone looks forward to an exciting program at the church among the pines where certain mysteries will be explained, the unruly cat goes missing. He puts Savannah and Detective Craig in danger, he causes a near forest fire, but it's because of Rags that the show goes on and the mischievous cat becomes the star. However, before he can be celebrated, he is taken and held for ransom. What happens next stuns the entire community. Will Rags live to appear in another Klepto Cat Mystery?




Meowmoirs of a Klepto Cat is available now at Amazon in Kindle or Paperback format.

Meowmoirs of a Klepto Cat is available as a paperback in the Matilija Press store.
+++++
Patricia Fry has been writing for publication since 1973, having contributed articles to numerous magazines. She published her first book in 1983 and now has many self-published and traditionally published books to her credit. See her most recent books in the left column of this page.