Klepto Cat Mystery Series
---
CSomething to Meow About: A Klepto Cat Mystery, Book 46
By Patricia Fry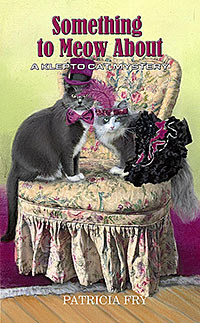 Rags dons his best rags for this delightful story.

A simple fund-raising idea explodes into fun and frivolity as cats are being asked to step outside their comfort zone and into some interesting costumes. The kitty-cat fashion parade is highly successful until a trust is breached. Who among the participants has their hand (or paw) in the till? Meanwhile an uninvited visitor shows up at the Iveysí home and moves in with more baggage than anyone could have expected. Itís all humans and cats on deck for this high-maintenance guest.



Something to Meow About is available now at Amazon in Kindle or Paperback format.

Something to Meow About is available as a paperback in the Matilija Press store.
+++++
Patricia Fry has been writing for publication since 1973, having contributed articles to numerous magazines. She published her first book in 1983 and now has many self-published and traditionally published books to her credit. See her most recent books in the left column of this page.