Klepto Cat Mystery Series
---
A Whisker of Truth: A Klepto Cat Mystery, Book 36
By Patricia Fry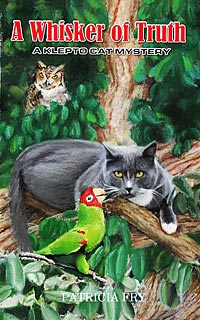 An enjoyable weekend with Rochelle and Peter quickly turns frightening for Savannah when Rags vanishes inside an old building that's scheduled for demolition. Everyone goes on high-alert, even a small parrot that has befriended Rags. The scramble to find him accelerates when a street urchin delivers a possible new clue—could Rochelle's old nemesis be involved? A spontaneous decision to visit a local mansion sheds new light on Rags's whereabouts, but it takes some fancy footwork and a little help from local authorities to release the imprisoned cat, who had been looked after by a large bird of the night. But it's not over. Rags is forced to locate a treasure for his captor and inadvertently exposes this person as a murderer. A victim of revenge, Rags's life is threatened again, and everyone is surprised when his feathered friends courageously come to his rescue.




A Whisker of Truth is available now at Amazon in Kindle or Paperback format.

A Whisker of Truth is available as a paperback in the Matilija Press store.
+++++
Patricia Fry has been writing for publication since 1973, having contributed articles to numerous magazines. She published her first book in 1983 and now has many self-published and traditionally published books to her credit. See her most recent books in the left column of this page.