Klepto Cat Mystery Series
---
Whisker of Doubt, A Klepto Cat Mystery, Book 48
By Patricia Fry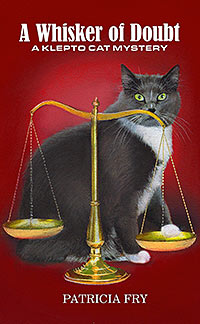 Itís all cats on deck in order to solve a six-year-old crime.A guest at a surprise birthday party renews Detective Craigís faith and enthusiasm for proving a dear relativeís innocence. Of course Savannah and Rags are called to action and they use unprecedented methods in their investigation with stunning results.

Thereís a lot of fur-flying in this spirited story because the truth hinges on what the cats have to say.Meanwhile, Savannah is caught up in a lost-cat drama when she unknowingly returns the beautiful Himalayan they found to the wrong person. She and Rags shift into high gear in a desperate attempt to reunite the cat with the people who love him before itís too late.



A Whisker of Doubt is available now at Amazon in Kindle or Paperback format.

A Whisker of Doubt is available as a paperback in the Matilija Press store.
+++++
Patricia Fry has been writing for publication since 1973, having contributed articles to numerous magazines. She published her first book in 1983 and now has many self-published and traditionally published books to her credit. See her most recent books in the left column of this page.