Klepto Cat Mystery Series
---
Whiskerful Thinking: A Klepto Cat Mystery, Book 43
By Patricia Fry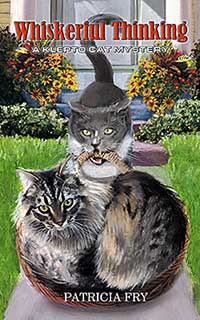 Rags claws his way out of some sticky situations.

A family-bonding camping trip soon turns frightful when Rags is accused of wrongdoing, then he's taken under unusual circumstances. Was this to punish him or Savannah? In this story, the wily klepto cat also rescues a cat friend from certain death, helps recover a missing pooch, and happens across a very special cat who has lost her way. Amid the flurry of action and activity, little did Rags know that his cushy lifestyle was in serious jeopardy when an eccentric character comes forward to claim ownership of him. Even Savannah's good friend Rochelle, the psychic, believes the perpetrator is of pure heart.



Whiskerful Thinking is available now as a paperback in the Matilija Press store.

Whiskerful Thinking is available now at Amazon in Kindle or Paperback format.
+++++
Patricia Fry has been writing for publication since 1973, having contributed articles to numerous magazines. She published her first book in 1983 and now has many self-published and traditionally published books to her credit. See her most recent books in the left column of this page.