Klepto Cat Mystery Series
---
A Whisker Away, A Klepto Cat Mystery, Book 52
By Patricia Fry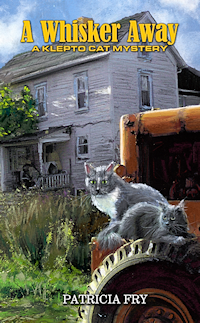 Rags leads the charge against a dangerous assailant.

Savannah and Rochelle are abducted and held hostage. The only eye witnesses wear fur and do not have a voice, but Rags finds a way to tell the story and uncover the clues that lead to the womenís rescue. Their nightmare isnít over yet, however, as the mad man escapes capture, and his craving for vengeance intensifies. As it turns out, heís no match for Rags, as the wily cat shifts into high gear to save his family and friends in, perhaps, his most daring heroic act yet.


A Whisker Away is available now at Amazon in Kindle or Paperback format.

A Whisker Away is available as a paperback in the Matilija Press store.
+++++
Patricia Fry has been writing for publication since 1973, having contributed articles to numerous magazines. She published her first book in 1983 and now has many self-published and traditionally published books to her credit. See her most recent books in the left column of this page.