Klepto Cat Mystery Series
---
On the Wrong Side of the Paw: A Klepto Cat Mystery, Book 35
By Patricia Fry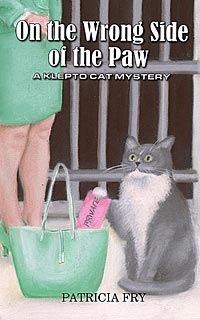 The klepto cat digs up a long-held secret.

While helping to manage a colony of homeless cats, Rags uncovers what could be clues to an old mystery. In this story, not only does Rags rescue a toddler from a precarious situation, he nearly loses his life saving a litter of kittens, he diagnosis another catís ailment in time to get him the proper treatment, and he paws the culprit in a decades old crime.




On the Wrong Side of the Paw is available now at Amazon in Kindle or Paperback format.

On the Wrong Side of the Paw is available as a paperback in the Matilija Press store.
+++++
Patricia Fry has been writing for publication since 1973, having contributed articles to numerous magazines. She published her first book in 1983 and now has many self-published and traditionally published books to her credit. See her most recent books in the left column of this page.