Catnapped
---
Catnapped: A Klepto Cat Mystery
By Patricia Fry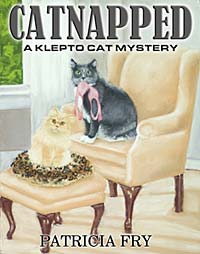 Reviews from Amazon Readers

"As a Kindle owner, I am always searching for new mysteries to read. I began reading this book on a Sunday morning and was finished by Sunday evening. It was so well written, had great characters and kept me enthralled throughout the whole book. This is a must-read for any style of reader. Can't wait to see more of Patricia's books!"

"This book is a cat lover's dream, and the author told me that two additional books are planned for this year as well...I couldn't be happier!!!" "My favorite character had to be Rags, a certain feline with tendencies to steal. I enjoyed 'watching' the relationship of Margaret and Max during the course of the book as well as the developing relationship of Savannah and Michael."

"This was first time I have read this author but can't wait for the next one."

"As a new novel writer I think she has hit the bulls eye. I'm looking forward to reading more of her books."

"I enjoyed the characters in this story and hope the author writes more of these. The cat character was really fun."

"Light and cozy read with good character development and a nice story. Thanks for offering at such a reasonable price."

"…the more I read, the more I liked it."

"First portions of the story were well written. Sections held my attention. Rags, the klepto cat, was funny and a good character. I was disappointed as I was expecting a mystery. It is good description of animal rescue, both pluses & minuses that occur. The heartbreak of losing a pet. Story is of two romances and was written well. I will probably more of this series as it is a good start of this subject."

"I really enjoyed this mystery by Ms. Fry. The mystery draws one in almost immediately with a cast of very likable characters. As Savannah assists her Aunt Margaret, we understand the motives of those working to working on the unwanted pet population as well as those that miss their stolen cats."

"The author has a good plot, very likeable characters, and a good variety of both people and cats. Klepto is inspired."

Catnapped is available now for Kindle at Amazon for only $2.99.
+++++
Patricia Fry has been writing for publication since 1973, having contributed articles to numerous magazines. She published her first book in 1983 and now has many self-published and traditionally published books to her credit. See her most recent books in the left column of this page.