Klepto Cat Mystery Series
---
Catnapped: A Klepto Cat Mystery, Book 1
By Patricia Fry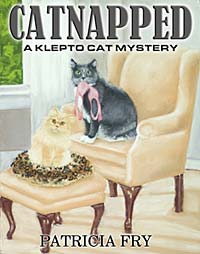 Rags (patterned partially after my mother's beloved cat), is a kleptomaniac. He arrives with his special person, Savannah Jordan, at her aunt's home and immediately finds himself in trouble with Aunt Margaret. That's because he can't keep his paws away from people's things. He doesn't just take undergarments, glasses, tea bags, coin purses, etc.—he hides them. Life can get interesting when there's a cat with a sense of humor in the household. And Rags does keep everyone laughing—well, for the most part.

When Savannah agrees to help her aunt while she recovers from a broken foot, she doesn't expect to walk into a catnap mystery, become part of a not-quite-legal surveillance team, witness a murder, be kidnapped and man-handled by a deranged stranger and meet a steaming hot veterinarian.

And Rags probably doesn't expect to make the acquaintance of a variety of other cats—some of them in terrible danger.

Don't worry, there are no talking cats in this series of books. However, readers will be captivated by the antics and purrsonalities of Rags as well as Layla, the faux Persian who shares quarters with Rags; Buffy, the almost Himalayan beauty; Walter and his best friend—an afghan mix dog, Lexie and an array of others. Readers will be rooting for Sally—how will this fragile kitty possibly survive in the wilds?—and the other catnap victims.

As in all subsequent stories, Rags has a paw in saving the day.

Another interesting character appearing in all of the stories is Charlotte, a young girl with Downs. She loves cats and, in fact, is also instrumental in solving this puzzling crime.

What would a mystery be without a little romance? Yes, you'll get your romance fix in all of my stories. So curl up with this book and a box of tissues and get ready to be entertained, enchanted, stunned and at least a little terrified.

See a few of the reviews that have appeared on Amazon.

Catnapped is available now at Amazon as an Audiobook!.

Catnapped is available now at Amazon in paperback and for Kindle.

Catnapped paperback is available in the Matilija Press store.
+++++
Patricia Fry has been writing for publication since 1973, having contributed articles to numerous magazines. She published her first book in 1983 and now has many self-published and traditionally published books to her credit. See her most recent books in the left column of this page.